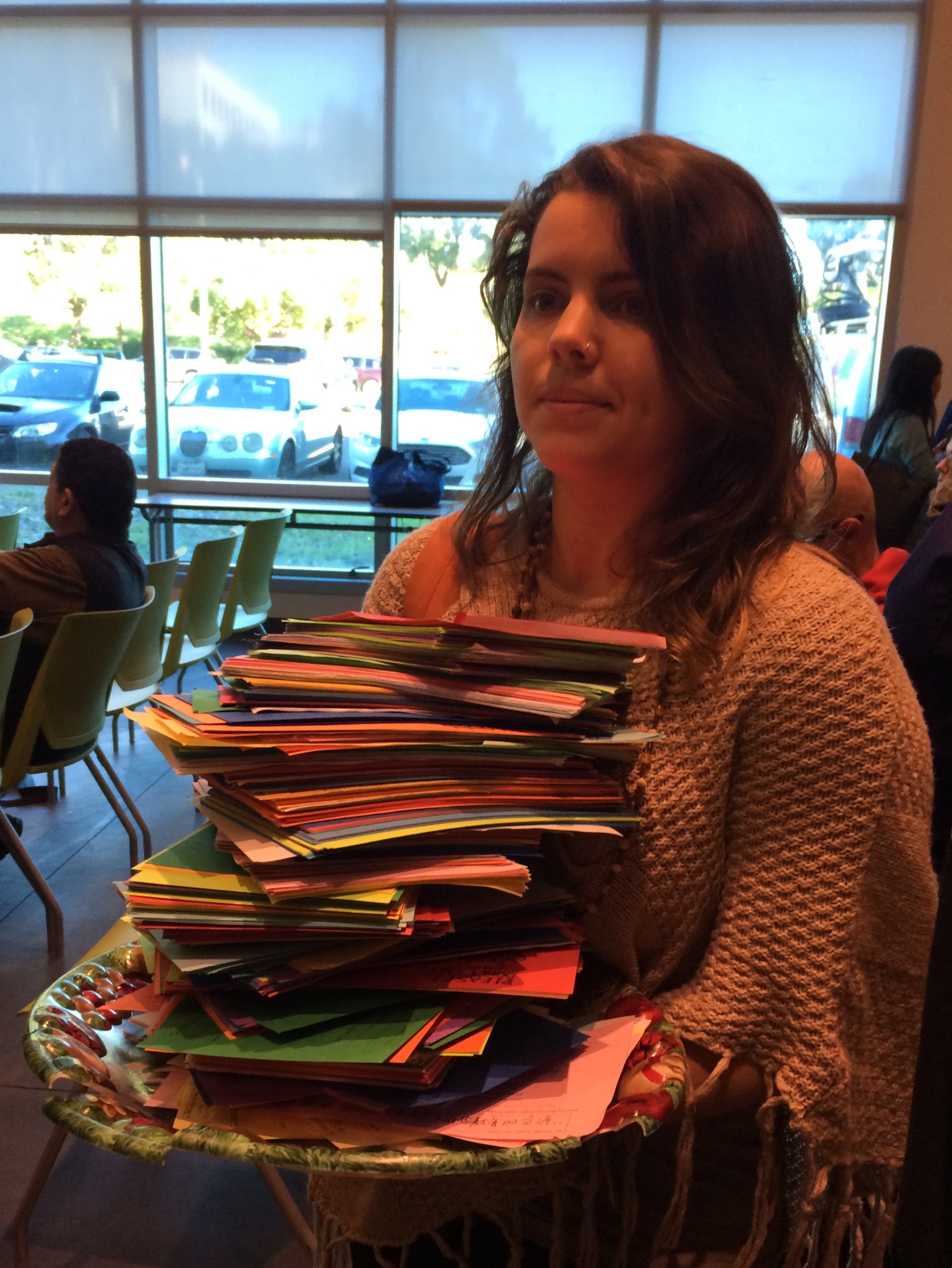 Today, a group of about 50 students, faculty, and community members filed quietly into Chancellor Lamb's first Friday meeting in Multiuse Building 140. Their mission: to deliver over 1000 postcards from students explaining how their lives would be affected by her decision to cut classes from college's Spring schedule.
Instead, they were treated to a rant by the Chancellor, who charged them with creating a "toxic" and "abusive" environment. She refused to allow them to speak, instead shutting down her own meeting.
Faculty and students have been asking the college for months to stop cutting classes and programs, fearing that the class cuts will further harm enrollment. "Since the Spring schedule came out, students have been coming to me every single day, complaining that the courses they need are not on the schedule," said Brenna Stroud, president of Evans Campus Associated Students.
Given that the college's funding is based on student enrollment, and cutting 
classes means turning students away, Chancellor Lamb's plan to cut 26% of the college's class offerings over the next 4 years looks to many like a disastrous strategy that will permanently down-size the college's programs and course offerings. "Evidence suggests that when you cut a class, students aren't all going to another class. Many drop out, or enroll at another college," said Tim Killikelly, President of AFT 2121. "Instituting a policy of cuts makes no economic sense if we want to rebuild enrollment."
This was the main concern of the students, faculty, and community members who attended the meeting, but with the meeting cancelled, their concern remains unheard and unaddressed.
We will continue organizing until students feel heard and their concerns have been addressed. Stay tuned for more to come.
In Unity,
Tim Killikelly
AFT 2121 President
Contact AFT 2121 at 415-585-2121 or visit us online at aft2121.org. Follow us on Facebook.
To update your email address, please let us know at weareallccsf@gmail.com.
You're on our list because you've expressed concern and care for CCSF.
Click the link below if you'd like to unsubscribe.